Curated Subscriptions can be set up by clicking the subscribe option and proceeding to checkout. (See "How do I create a subscription?")
For Frequent Brewer Subscription set up:
If you do not have any subscriptions yet you can follow the steps Here.
If you already have a subscription shipping to yourself you may notice that the subscription option on each product page will add the item to your existing subscription. Fear not! Follow these step-by-step directions.
Browse your favorite coffee, tea, K-Cup Pods, or espresso capsule products on peets.com
Select your preferred grind (for coffee) and quantity on the product page
Select "Add To Cart"
From the cart pop up click "Subscribe" and choose your preferred frequency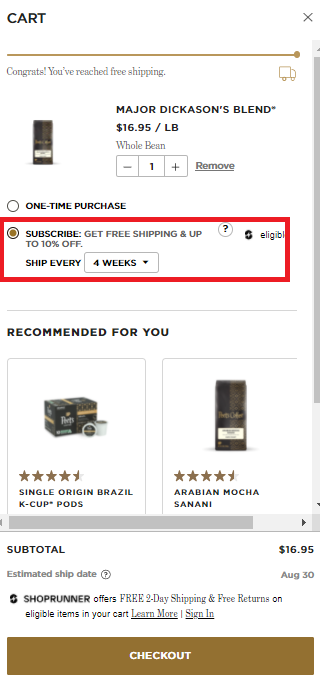 Lastly click Checkout to complete the purchase ensuring to enter recipient's information for the shipping address.
Once set up, your new subscription will be available to view under the 'Subscriptions' section of your Peet's Account. From there, you can adjust ship dates, grind, item quantity, and more!