A Peet's subscription gives you the flexibility to get your favorite products delivered how you want them, when you want them.
WHAT FREQUENCIES DO YOU OFFER?
Standard (or "Frequent Brewer") subscriptions can be scheduled at the following regular intervals: 1, 2, 3, 4, 6 or 8 weeks.
Curated Subscriptions (like our Small Batch Series, Single Origin Series, and Signature Blend Series) ship once a month. Note that the frequency for a curated subscription cannot be adjusted.
HOW DO I ADJUST MY SUBSCRIPTION FREQUENCY?
It's easy to adjust your subscription frequency for a standard (Frequent Brewer) subscription. Simply log in to your peets.com account and follow these steps:
From your account dashboard, navigate to the 'Subscriptions' tab
Select the frequency that you would like from the drop down menu by adjusting the 'Sending' (quantity) and 'Every' (frequency) elements.
Your subscription settings will be automatically updated to your new frequency.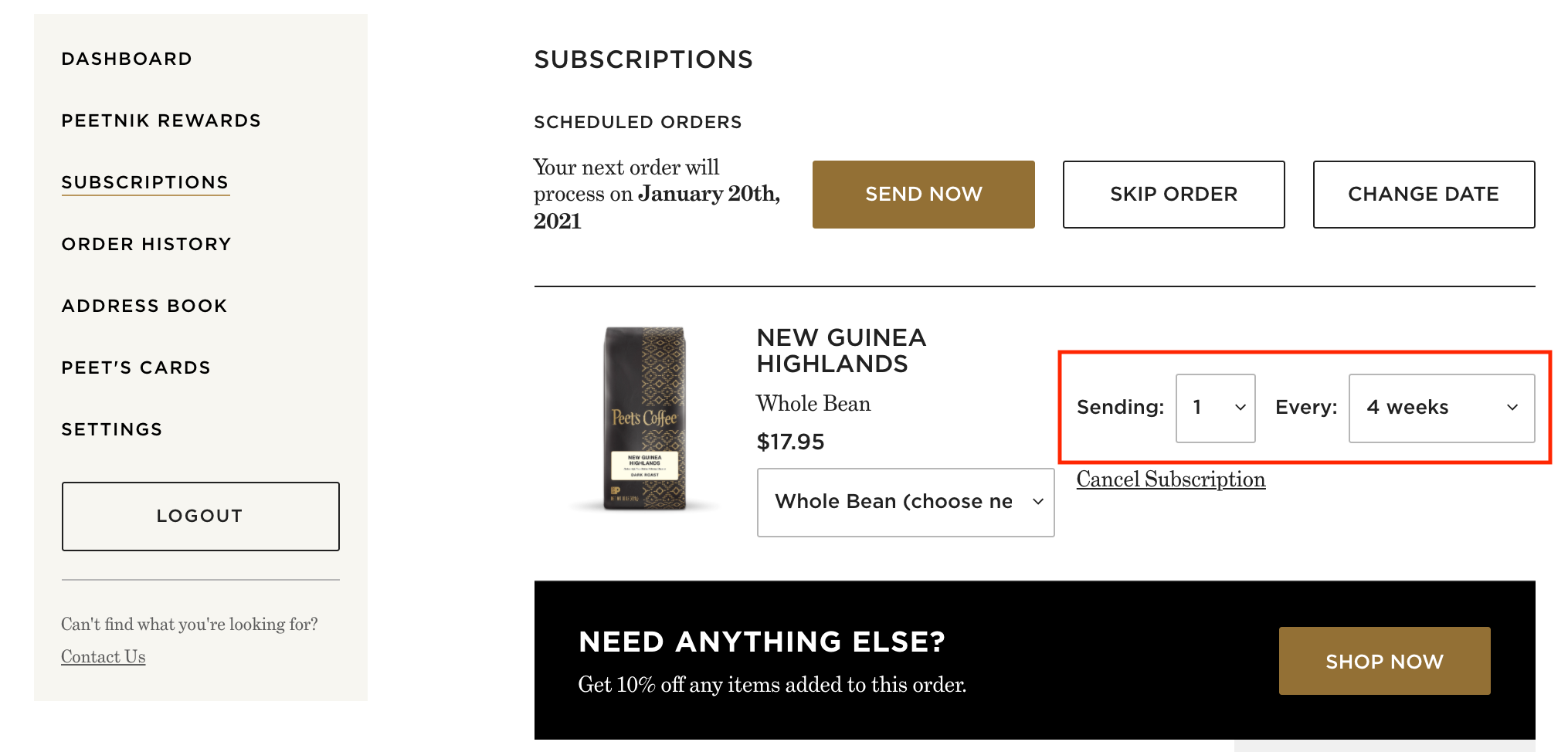 CAN I CHOOSE A CUSTOM FREQUENCY THAT'S NOT LISTED?
Unfortunately we do not offer frequencies outside of the 1, 2, 3, 4, 6, or 8 week options in order to provide the best experience possible and ensure that we always have your favorite products in stock.
NOTE: Any modifications or cancellations must be made at least 36 hours prior to an order's scheduled ship date. Once an order has processed you will not be able to make changes until the following shipment.
It's easy to make other changes to your subscription from your account. Learn more about how to adjust your subscription here: